HK USP-SD Upgrades
The HK USP-SD is the 9mm version their tactical line of USP pistols. It has several features the standard USP 9 does not have. However, it also lacks some features of its tactical big brothers.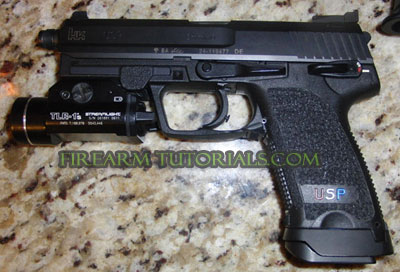 The following features are added the SD model and are not found on the standard USP-9:
Threaded barrel
Tall adjustable sights (for use with a suppressor)
There are two features found on the .40 and .45 caliber tactical pistols which are not present on the SD model:
Tactical marking on the slide
O-ring barrel
The .40 and .45 caliber version have TACTICAL engraved into the slide after the USP Mark. This was left off the SD for some reason. HK claims the o-ring barrel improves accuracy. There is some debate over this, but for whatever reason HK did not include that either. The match trigger is a HUGE upgrade. It smooths and lightens an already decent trigger pull which results in noticeably better shot placement. The match trigger is present in 9mm versions of the USP Expert, USP Elite and USP Match. Again, left out of the SD model?
So you want to venture down the road of purchasing an SD and outfitting it will all the cool upgrades. That's great, but you better have deep pockets. As I covered earlier,
HK guns and parts are outrageously expensive
.
Let's take a look at what it would cost to outfit a USP-SD as seen above. The figures below are based on prices current to when this article was written. I am not going to list installation for any parts except the trigger and front sight post.
HK USP-SD Pistol - $1075
Jet funnel magazine kit - $60
Jet funnel magazine - $50 x 2
Extended Magazine release - $25
GG&G light adapter - $60
Streamlight TLR-1s - $100
Match Trigger kit - $125
Front night-sight post - $45
Trigger & sight installation - $65
GRAND TOTAL: $1735
WOW! Considering you would probably go with more than 2 magazines, this ends up being one expensive pistol. I will tell you that once it's all tricked out as seen, it truly is an awesome machine to shoot. Especially with a suppressor.
The only downfall to shooting a 9mm suppressed is that you will need to
use subsonic ammo
to get the full benefit of suppression. That usually comes in the form 147 grain ammo which is more expensive and also has a slightly different point of impact than the standard 115 grain.
On a side note, the SD does come with something the other tactical models do not... A $15 thread protector... In the video below I show you the USP-SD compared to the standard USP 9mm:
2 comments
Comment
from:
Joseph Burks
[Visitor]
If I took my standard USP and added the sights, and threaded barrel would that be the same thing? Is anything else different about the SD model?
10/10/12 @ 13:50

For the most part, yes. However, serial numbers for an SD model would have a different prefix. If you tried to sell it as a "real" SD the serial numbers wouldn't match. You would also need a different recoil spring to use with a suppressor.
10/16/12 @ 10:28