Top AR style .308 rifles
When considering long range shooting with a .308 most people think of the Remington 700. Traditional "gas guns" are often associated with weaker tolerances and therefore not optimal for long range shooting. They are called gas guns because they operate using a direct-impingement or piston-driven blow back system. While there are several advantages to using a bolt gun, there are several players who produce some VERY nice gas guns that give the Remington 700 a run for its money.
I've choose my top five AR-10 style rifles that will fit the bill for any accuracy junky who still wants a platform that doubles as a semi-auto. Keep in mind that unless specified, these figures DO NOT include optics, bipods, or any other goodies needed to stretch these rifles out. These guns come with some hefty price tags.
#5 FN Herstal SCAR 17S


The SCAR17S rings in on the low-end with a MSRP around $2800. The Belgian made gun sports a 16.25" barrel and despite the thin profile, the entire gun still weighs in around 8 pounds. The design and operation of the gun is fantastic and uses a piston driven blow back system. This gun does have a reciprocating charging handle which may be a negative to some. However, it does come with a nice set of iron sights. A great shooter that won't disappoint.
#4 HK MR762


Another European offering, the MR762 is just the overbuilt tank you would expect from HK. The German rifle boasts a 16.5" barrel with a nitride coated bore and an MSRP of around $3500. With a heavy barrel profile this gun weights in just under 10 pounds! The MR762 uses a piston driven blow system similar to the SCAR. With a trigger that is less than desirable and the out-dated iron sights, this rifle will do the job, but has some definite room for improvement in the features department. HK does offer a "long range package" that includes a Leupold 3-9VX-R Patrol 3-9x40mm optic with mount, bipod, and Pelican 1720 hard case. This package brings the MSRP to around $6200.


#3 Knight's Armament SR-25E2


A rifle that needs no introduction. Knight's Armament Company (KAC) has been providing some of the world's best rifles to the US military for decades. The SR-25E2 has evolved over the years to to include some updated KAC goodness. The E2 includes a 16" barrel with a QD flash suppressor that will accept a proprietary suppressor. This gun uses the traditional direct impingement system along with some other KAC innovations like the rounded bolt head, ambi-bolt release, and KAC iron sights. With only a 16" barrel this gun weighs in at just over 9 pounds. These are offered in very limited numbers to the civilian market. However, its price is out of this world at around $4600 MSRP
#2 LWRC REPR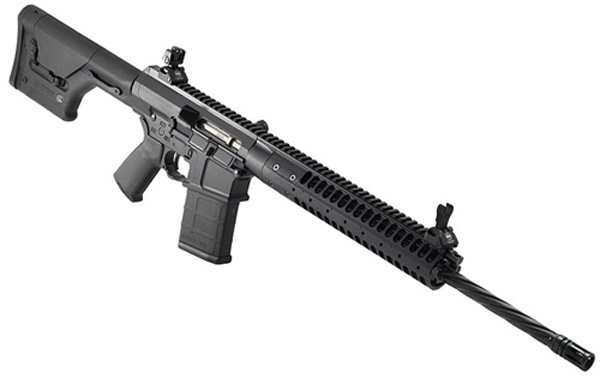 Another US-made offering is the best value on the list with an MSRP of around $3650. A top-notch gun with all the bells and whistles a shooter needs. The R.E.P.R. (Rapid Engagement Precision Rifle), sports a 20" barrel with a piston driven blow back system. It is fully adjustable for different settings like suppressed fire or disabled to allow for bolt-action operation. The R.E.P.R. comes with a Magpul PRS stock, MIAD grip, and Geissele trigger. The 20" barrel is fluted to save weight but the rifle still weighs in at 11.25 pounds. It also includes a non-reciprocating charging handle on the left side of the receiver. The only thing this rifle is missing is the ambi-safety selector. While I rated it number 2, the LWRC is truly the best value of the bunch and a great rifle.
#1 JP Enterprise PSC-12


JP Enterprises is better known as a competition builder. However, they have earned some serious marks for high performance, accuracy, and all around great products. I chose the PSC-12 as the #1 on my list because it truly is a completely custom rifle. The options are virtually endless with everything from the fit to finish being nothing short of a masterpiece. I spec'd a rifle similar to the R.E.P.R selecting a 20" heavy profile barrel, match trigger, and Magpul PRS. I added some other goodies like a bead blasted barrel finish, rounded bolt similar to the KAC, and dual-side charging receiver. The build price was just under $4000 which is phenomenal considering the features and quality.
Noveske and Spike's Tactical currently do not have an offering in .308. Noveske has entered heavily into the .300 Blackout scene and Spike's seems to be testing the waters with some AK parts. I feel both of these companies would produce a great gun chambered in .308.
At the end of the day these are all fantastic rifles that while similar, all have different features and characteristics which set them apart from each other. While the LWRC comes with a great stock and trigger, the weight makes it a more difficult to transport. In contrast, some may argue the shorter barrels on the HK, KAC, and FN limit the accuracy at maximum distances. It's interesting to see the use of piston systems in 3 of the 5 guns listed, while KAC and JPE chose to stick with the the DI system.
If you are looking for a accurate gas gun as an alternative to a bolt gun, any of these will do the job. It's simply a matter of matching the features to your budget.
No feedback yet